Are you Looking to buy the RICOH Aficio MP6002? It is a highly effective Multifunction Copier, Printer, Scanner
Are you Looking to buy the RICOH Aficio MP6002? It is a highly effective Multifunction Copier, Printer, Scanner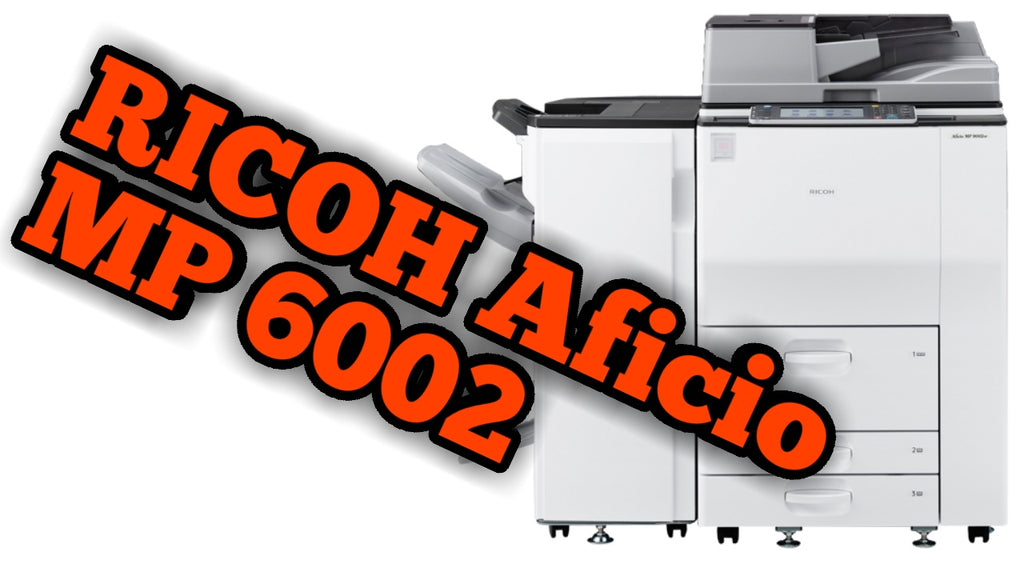 Ricoh Aficio MP 6002 SP Digital Imaging System
The Ricoh Aficio MP 6002SP offers 60 ppm output advanced printing copying scanning and distribution capabilities that reduce the total cost of ownership

SKU: AFMP6002SP
Category: Black and White Multifunction Printers
Product Description:
You may not be able to predict the future. But you can prepare for it. The Ricoh Aficio MP 6002SP combine user-friendly customization and a sleek easy-to-use design to streamline an array of everyday tasks efficiently. The services-led platform of the 60 ppm black-and-white multifunction device offers advanced printing copying scanning and distribution capabilities to ensure fast-moving workflows that help reduce total cost of ownership. Choose the one that works best for you- as the primary system for your work group or as an integral part of the Ricoh Managed Document Services (MDS) strategy- and bolster productivity throughout your organization.
Capture And Share Documents
Empower your team with the tools to easily perform extended print runs, share documents and simplify in-house specialty jobs. Count on the RICOH MP 6002SP Black and White Laser Multifunction Printer (MFP) for crisp black-and-white output at 60 pages per minute (ppm), plus a monthly print volume of up to 150,000 pages. Save time scanning and capturing full-color documents with one- or two-sided batch scanning options. Plus, easily distribute essential information using the scan-to-email/folder/URL functions for simple usability and on-the-go convenience.


Get It Fast And Finished
Select options for the finish you want. Add accessories for hole-punching, multi-sheet folding, or a user-assignable 9-bin mailbox for organized, high-quality finished documents. A 3,000-sheet multi-tray can expedite large jobs, and a 2,000-sheet finisher with saddle-stitch stapler can create booklets. No matter the project, the MP 6002SP lets you choose a preferred stock, paper size and finishing choice to compliment your finished presentation.
Customize For Common Jobs
Let your team customize its workflow by workgroup or user, conveniently display commonly used features. You can even import and export preference settings — including applications, system settings and shortcuts — from other Ricoh services-led platform devices for fast, convenient deployments.
Keep Your Environmental Commitment
Ricoh Aficio MP 6002 is constructed of thinner resins and steel sheets made from 100% recycled steel scrap, which helps save resources. It also features an EPEAT Silver rating and is ENERGY STAR certified. It can help reduce paper waste with features like automatic duplexing, and features a low Typical Electricity Consumption value as determined by ENERGY STAR program testing requirements. In addition, our consumable and product recycling programs make it easy to recycle.


Employ Remote Administration
Take control with integrated, scalable administrative controls. Save time using the Web Smart Device Monitor from any web browser to configure and diagnose network devices remotely. Ricoh's easy-to-use Remote software simplifies the collection of device usage data, and automates service calls to save time. Plus, your administrators can receive email alerts to make sure your devices are replenished with supplies promptly — minimizing downtime.
Store, Print And Save
Achieve heightened levels of productivity with the Document Server function, by storing frequently used documents — such as forms and letterhead — directly onto the hard drive for simple access and easy distribution. Use print-on-demand to eliminate the expense and hassle of printing and physically storing outdated, pre-printed documents.


Safeguard What's Essential
Enjoy more secure document protection. Use the hard disk drive (HDD) encryption option to help safeguard your stored documents. The
Ricoh MP 6002
 also scrambles documents with encrypted PDF transmission protection, and automatically erases data left behind on the hard drive with the Data Overwrite Security System feature. Additionally, you can limit document access via authentication codes, and add digital watermarks to help prevent unwanted reproductions. Plus, the Locked Print and Hold Print features place jobs in a queue until they are released by the user — helping to prevent sensitive documents from being forgotten in the output tray.
Move Beyond The Basics
Take advantage of a wide range of Managed Document Services (MDS) to support and enhance document workflows, reduce costs and speed communication. These innovative technologies take your print habits into account, and integrate seamlessly with the MP 6002 SP, expanding its functionality beyond basic copying, printing, faxing and scanning — to help improve your productivity, efficiency and end-user experiences.
Print From More Places
Save time and effort using Ricoh Hotspot Printing to send documents directly to the printer using your smartphone, tablet or notebook without adding print drivers. The optional Integrated Cloud Environment service lets you print from, or scan to, personal cloud storage services whether you're working remotely or on site. In addition, you can print documents directly at the printer by using a USB drive or SD card.