PROMO ONE OF A KIND COPIERS/PRINTERS DEALS
PROMO ONE OF A KIND COPIERS/PRINTERS DEALS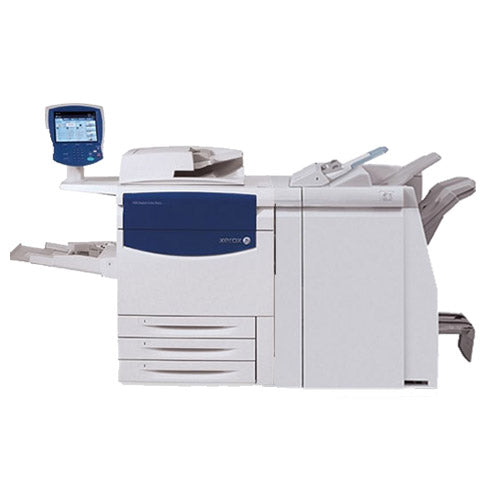 Xerox C75 Color Press Production Print Shop Printer with Standard Booklet Maker Finisher and Large Capacity Tray
Lease For Only $279/month
Resolution Print/Copy: 2400 x 2400 dpi
Large capacity tray, Booklet maker finisher
Print speed up to 75 pages per minute
SAVE 25% for Upfront Payment!
The Xerox Color C75 Press is big production power in a small footprint. It gives you the flexibility to produce the most demanding print jobs. It's simple enough to let you spend less time printing and more time at the other tasks of running your business. And it brings you increased walk-up capabilities while you reduce costs at the same time.
The Xerox Color C75 Printer is a high-performance, professional, production multifunction printer best suited for graphic arts, pay-for-print, commercial print and corporate environments. It copies and prints with incredible color control up to 2400 x 2400 dpi resolution. It also can fax, as well as scan at high speed in color or monochrome to PC, USB or email. Numerous finishing and color server options make it flexible to fit your unique needs, and grow along with your business. 
Function: Copy, Print, Scan, Fax,
Standard Finisher with booklet maker
Paper sizes: 11x17, 12x18, 13x19
Print/Copy Speed: Up To 75 PPM
Scan Speed: 200IPM
Resolution Print/Copy: 2400 x 2400 dpi
Duplex Automatic Document Feeder
Printed Sides: Duplex
Single pass duplex scanning
Scan to a variety of output options: Up to 200 ipm (Color and Black and White)
Media Types: Coated, heavyweight, transparencies, DocuMagnet®, labels, tabs. All Trays run coated stock.
Paper Flexibility/Weights
• Internal Trays 1-3: 550 sheet each, 18 lb bond to
80 lb cover (64 – 220 gsm) uncoated; 28 lb bond to
80 lb cover (106 – 220 gsm) coated
• Bypass Tray: 250 sheets, 18 lb bond – 110 lb cover
(64 – 300 gsm) uncoated; 28 lb bond – 110 lb cover
(106 – 300 gsm) coated
The generous yield on the Xerox Color C75 Press black toner cartridge (006R01383) delivers an estimated 20,000 pages. Each of the Xerox Color C75 Press color toner cartridges (cyan-006R01384, magenta-006R01385, and yellow-006R01386) deliver an estimated 22,000 pages. Toner yields on the Xerox Color C75 Press are based on 7.5% page coverage.
View Our Showroom Live Printers/Copiers Inventory
For more information Contact Us!