Know the different types of copiers
Know the different types of copiers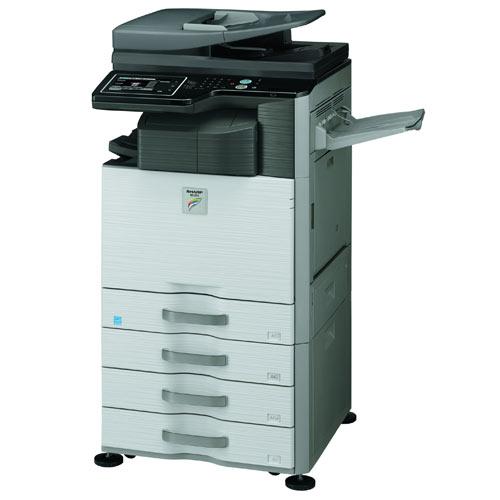 Currently, the world is growing at the fastest pace where people want things to be done in minimum time. Therefore, irrespective of activities in offices or any other area, machines and gadgets are welcomed to make things done faster. 
Now the growing technology has come up with a variety of machines which helps men to get the photocopy of the papers. This kind of machine has been invented long back, and there are innumerable variations available. So one needs to know what kind of features he is looking for in an office copier.
Office Copiers in Canada offer all kinds of copiers with advanced features if you are unsure what type of copier you need. The best part of services and machines is that the support is available at Lowest Price Office Copiers in Canada and have Showroom Colour Copiers. It means they are the operator of 1 stop solutions for all types of copier matters. 
Sharp MX-2615N 2615 Color Copier Laser Printer Copier Scanner 11x17 Stapler REPOSSESSED - Precision Toner
There are many types of copiers which are mentioned below;
Mono copier or Black & White Copier:
This type of copier has only one tone of colour that is black. It is commonly utilized for office use. It is available in several dimensions, which start from moderate to significant volume. It is readily available in every office used as an office copier of Canada.
Color Photocopiers:
The colour photocopiers in Toronto are for the one who is more inclined towards other colours than black. This kind of copier can produce multi-colour prints. The primary colour copier has four drums and four colour stores comprising cyan, magenta, yellow and black, seldom denoted as the CMYK spectrum. The machine uses four toners allowing colour photocopiers to create almost any colour combination.
Analogue Photocopiers:
This type of copier is an old style and was not acquired by the market due to its mechanical failure. This photocopier uses lights, lenses, and mirrors to reveal the image of the paper onto a photoreceptor.
Desktop Photocopiers:
These types of copiers are smaller devices in size which you would fit on a desktop. This kind of copier is used only on A4 papers and A3 papers. The best part of this kind of copier is you can regularly combine paper trays if needed, though this would grow the height of the photocopier.
A3 Photocopiers:
There are copiers available in the market in which A3 photocopying is included. The posters, spreadsheets, and various marketing materials are generally printed on A3 paper for which the A3 photocopier is used. 
Network Photocopier:
This kind of copier can connect to multiple devices simultaneously; it is majorly used in educational institutes and offices. It gets connected to other gadgets via the network, where everyone can access the copier. 
Digital Photocopiers:
This type of photocopier can photocopy, as assumed and provide functions like scan, print, and fax. This photocopier is also referred to as Multifunction Products or All-in-One Printers. The latest multifunction units are network connected, providing features like scan to email/folder/USB…or another machine connectivity.
Office Photocopiers:
In severe distinction to the desktop, the photocopier is the office photocopier, which stands on the floor due to being oversized. They have a larger capacity than other units, with higher print speeds. 
The matters to consider while purchasing copier from Showroom Colour Copiers are as under:
Quality of Print:

One way to ascertain print quality is by comparing it with other copiers. After setting up the colour profiles, the machine printed the same image document on two different devices, and the results were eye-opening. The standard copier easily defeated the legacy brand with excellent resolution and clear image quality.
Compatibility of Software:

It is found that a print adaptability software solution such as PaperCut enables users to print with comfort and versatility from various interfaces, including Windows, Mac, Linux, and Novell. This extract is also proficient in tracking and budgeting printing based on distinct people, businesses, and student centers.
Tracking of the User:

Almost every industry needs its accounts to get printed in documents to generate invoices. Businesses like Law Firms and Real Estate use this at its maximum, as their employees use their gadgets. These types of companies must be able to trace usage and attach it to users and clients.
Output of the Copier:

Checking the output of the copier is one of the essential aspects as every office and organization uses the machine in different ways. Not all devices can support paper 11x17-inch or larger. 
Conclusion:
In a nutshell, many types of copiers are available with highly advanced features, and one needs to know the usage he wants to do and then buy the machine accordingly. This usage helps get accurate output with lower cost, higher services and facilities.