Ricoh Pro C5100s Color Laser HIGH QUALITY 1200x4800 dpi FAST 65PPM Print Shop Photocopier
Ricoh Pro C5100s Color Laser HIGH QUALITY 1200x4800 dpi FAST 65PPM Print Shop Photocopier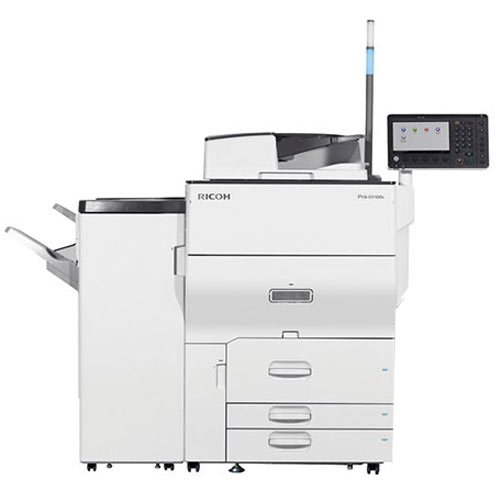 The Ricoh Pro C5100s is an affordable, high speed, compact, production color laser printer that provides commercial printers with the application versatility, productivity and image quality in a system with a compact footprint they desire. Two models offer 65 based on A4, a maximum sheet size of 13x19, a maximum monthly volume of 150k, with a duty cycle of 300k.
The Ricoh Pro C5100s provides outstanding 1200x4800 dpi VCSEL image quality on a wide variety of media, from tree based, to synthetics and envelopes – an advantage for printers looking to make a smart investment that can handle the range of their customer's printing requirements at an affordable price point. Ricoh will also demonstrate a unique ac-transfer system paired with an elastic fusing belt to showcase outstanding output on a large variety of textured medias.
Right-sized for your business
Get the professional results you need with unmatched quality — on time and on budget. The RICOH Pro C5100s Color Production Printer helps you deliver on a wide range of customer demands with 65 pages per minute (ppm) printing, plus copying, scanning and finishing all in a single space &mdash all you need is less than four inches of clearance from the wall.
Enjoy luxury performance with best-in-class affordability
Price out your competition when you turn around deliverable ranging from the basics to complex mixed-media jobs — all at a low cost per page. Combine the system with a VDP software application and increase your customer base with customized communications that command top dollar and fit your growing business needs.
Features:
Color laser Printer
Function: Copy, Print, Scan, Scan to Email, Fax
Print speed: up to 65 ppm
Scanning Speed : Up to 220 ipm

Print Resolution: 1200 x 4800dpi

Paper  handling  and  print  quality  is  improved  by  advance  toner transfer technology and elastic fusing belt
View Our Showroom Live Printers/Copiers Inventory